Timber Elements: A Modern Touch of Timber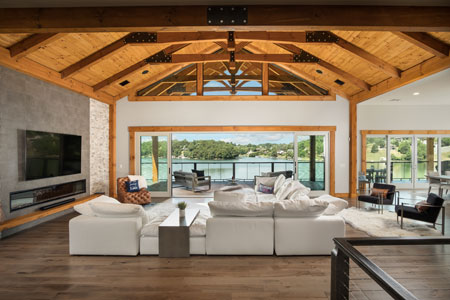 Timber elements provide exciting possibilities in both architectural and structural design. In addition to being incredibly beautiful, timber accents are so versatile that they can conform to any design style— including modern. In fact, they become so popular, there's even a new name floating around that describes modern homes that use natural elements, such as timber to elevate the look: organic modern.
The Concepts of Timber Elements
Although the term "organic modern" is fairly new, the concept certainly isn't. The concept itself can actually be traced back to architect, Frank Lloyd Wright, who believed a great design should feel as though it's part of the landscape. A philosophy he called organic architecture. And that's exactly what organic modern is— a design style that's essentially a balanced mix of modern lines contrasted with natural forms and materials. A touch of sleek, a touch of warmth.
Timber Elements and the Modern-Designed Home
Structural or decorative, exposed, curved, or straight timber elements can have a dramatic influence on your modern home. Not only do they work with multiple design styles, but they can also be incorporated just about anywhere: front/rear facade, foyer, great room, kitchen/dining — basically, anywhere you'd like!
Whether you are wanting to embrace that concept of continuity with your surroundings or simply want to personalize your home with added character, timber accents are a wonderful way to do it.
Modern Home Design Customization
If your style is modern— or any other style for that matter— we can craft timber accents to complement your home whether you're planning a renovation or new build.
To get started, click here to download our new Timber Living Reimagined brochure or ask your Timberhaven authorized sales representative about the many options available for your modern home. We would be more than happy to help you create that gorgeous organic look that only comes from timber elements.
https://timberhavenloghomes.com/wp-content/uploads/2020/09/TLH_Sarangoulis-4941-Edit.jpg
300
450
Bobbi Landis
https://timberhavenloghomes.com/wp-content/uploads/2017/07/timberhaven-logo.png
Bobbi Landis
2020-12-04 05:56:09
2020-12-03 15:56:55
Timber Elements: A Modern Touch of Timber