Trim for Doors and Windows: Log Home Under Construction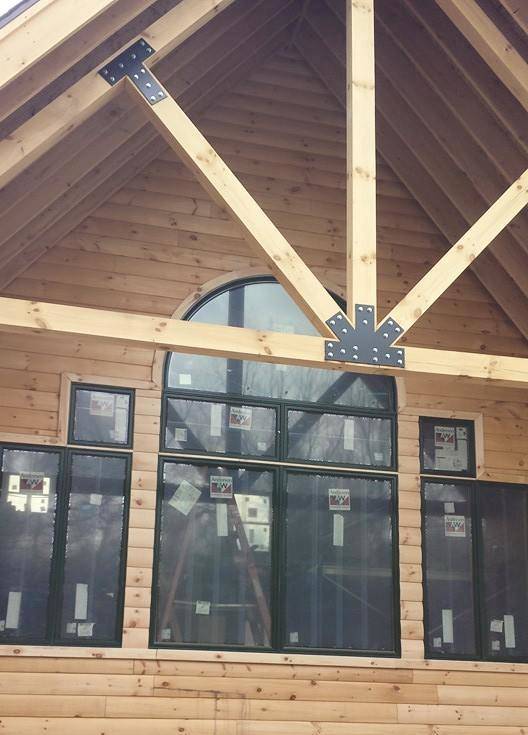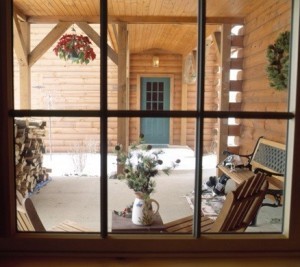 An awe-some photograph isn't complete without a proper frame. In fact, framing a photograph is an extension of the creative process that commenced when you pressed the shutter on your camera. In order to enhance, protect, and give the image the presentation it deserves – it needs a frame!
Same philosophy applies to the doors and windows of your log home. Aesthetically speaking, the frame is a design element that adds depth, detail, and integrity to a room or exterior of a log home. It also establishes a smooth and beautiful transition between the log wall and the doors and windows. Trim, though, has become so commonplace most people don't give it much consideration. We beg to differ.
Trim for Doors and Windows: Options
While there are many species, profiles, sizes and styles of trim from which to choose, you won't want some economical, low-grade material for this purpose. So as a standard in every Timberhaven log home, we will supply beautifully milled trim for the exterior and interior of your home.
Paul Flury, a builder in Massachusetts is currently constructing a Timberhaven log home in Rhode Island. He recently praised our trim materials saying, "2x trim may seem like small potatoes, but as a builder this is one of my favorites. Timberhaven provides 2×10 exterior fascias and even beefier window trim that is 1-3/4″ thick. Most others supply 3/4″ material. Details like this make our homes pop when completed." Here…let's show you what Paul is talking about.
Trim for Doors and Windows: Preparation and Installation
First kerf cuts are performed to create the necessary flat surface for trim application. A 'dam hole' is bored at each log course and filled with caulk to help prevent water from migrating along the top surface of the log. Caulking is then applied to the face of the logs before the trim is set and fastened.
As you can see here, the exterior trim has been installed to all of the doors and windows. It certainly appears to be picture perfect and like Paul said, "It really does pop!"
https://timberhavenloghomes.com/wp-content/uploads/2015/06/11100665_961808647192505_8212375116550729895_n.jpg
735
528
Bobbi Landis
https://timberhavenloghomes.com/wp-content/uploads/2017/07/timberhaven-logo.png
Bobbi Landis
2015-06-12 07:26:26
2017-07-31 09:04:19
Trim for Doors and Windows: Log Home Under Construction