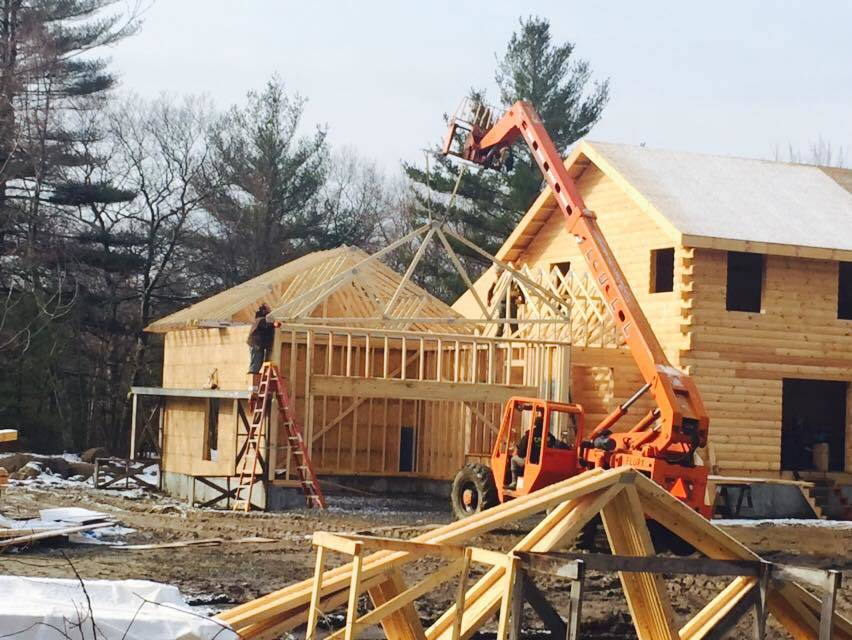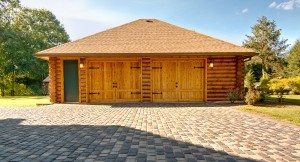 Fun fact – 82% of homes in the US have two-car garages or larger but only 15% use them for parking cars.  We're impartial here at Timberhaven Log Homes as what you choose to do – or not do – with your garage space is your prerogative.
What we do care about is that you have the materials needed to construct the space and that you're pleased with the overall design.  Some considerations to contemplate: Do you prefer a single- or two-car garage?  Perhaps a Carriage garage that offers additional space on the second level for an office, bedroom, or storage is a better choice?  Will your garage be stand-alone or will it be directly connected to your log home?  Our Rhode Island log home owners utilized a breezeway to connect their two-car garage to their log home.  That's another option.
You must also consider whether your garage will be solid log or conventionally built. In some cases local codes play a role in that final outcome, but typically the choice is yours.  If conventionally built, like the garage we are going to show you today, most homeowners finish the exterior with Timberhaven's White Pine log siding which is cut to mirror the profile of your solid or engineered log home.  Conventionally built garages can also be finished with a combination of log siding, board and batten, stone and/or other hybrid building materials.
Having said all of that….let's see some of these options play-out with a conventionally-built, two-car garage.
Two-Car Garage: Under Construction
Working from ground level, Flury Builders frame the first wall.  They install OSB sheathing to the exterior side of the wall then lift it into position.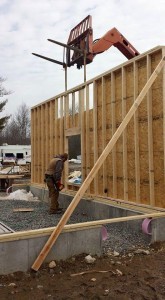 The wall is then braced to secure its placement until the other three walls and roof are placed and the structural integrity of the garage has been established.
At its base, the angle brace is secured to the stem wall.  A stem wall can be poured concrete, pre-fab walls, or concrete block and is the foundation for the walls being erected for this garage.  The stems walls you see here were formed using poured concrete.
The remaining garage walls are constructed on ground level and lifted into place.  You see the front wall being lifted into place here.  This wall includes an oversized header that spans the opening for the overhead garage door.  This header carries the weight of the building materials atop it and distributes that weight across the opening.  No saggy headers here!
Using a forklift, the pre-fabricated trusses are set into place and secured.  This two-car conventional garage is starting to look like…well, a garage.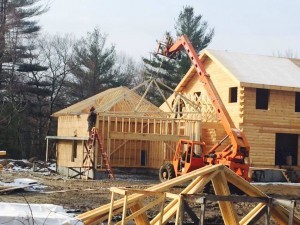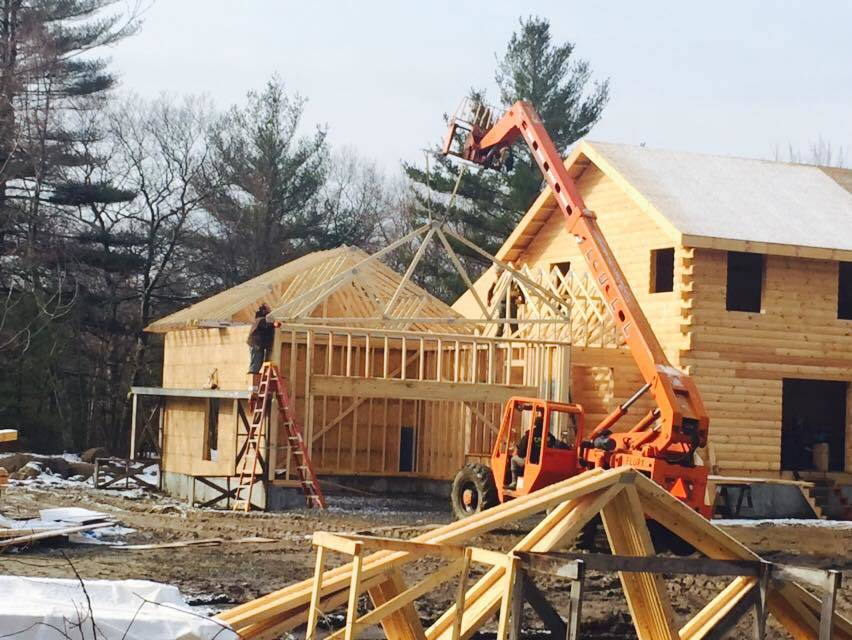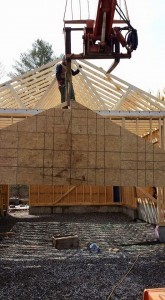 Later the sheathing for the gable end is lifted into place and fastened.
Our standard two-foot overhang is framed afterwards – this element complements the overall design of the garage and mirrors the same architectural elements included on the log home.  It's time for the builders to stand back and admire their work…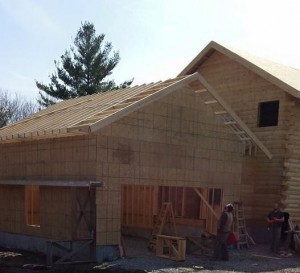 Installation of the roof sheathing completes today's project.  Good job, guys.  Take the evening off!
So…once complete, will the happy homeowners park their vehicles in this garage or will they utilize the space for something else?  The jury's still out on that one…
(Important note: All of the building materials you see being used today are standard components of every Timberhaven Log Home package.  It's important to fully understand the completeness of Timberhaven's package when you're analyzing apples-to-apples comparisons with other log home manufacturers.  Your local rep can help you sort out the details or contact us today.) 
https://timberhavenloghomes.com/wp-content/uploads/2015/05/11050138_10204390585786868_3779772244518164047_n.jpg
640
852
Bobbi Landis
https://timberhavenloghomes.com/wp-content/uploads/2017/07/timberhaven-logo.png
Bobbi Landis
2015-05-22 08:18:47
2017-07-31 09:05:07
Log Home Under Construction: Two-Car Garage