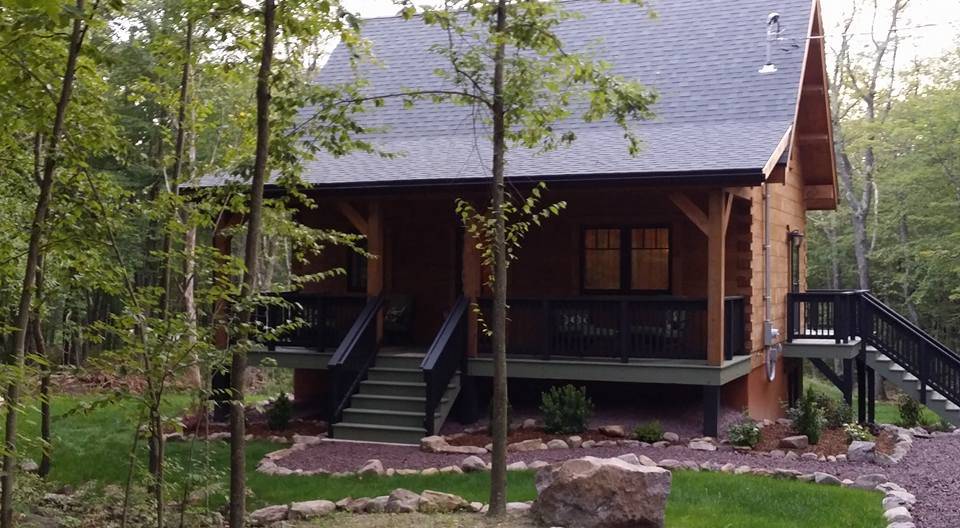 The Ultimate Home – a TV show that features homes with extreme settings or the most opulent, exclusive finishes. Have you seen it? Some examples of showcased homes include – subterranean homes, homes built on water, homes designed to withstand earthquakes, etc. Even a Tiny Houses segment showcased various homeowners who scaled down their possessions in order to build a small home of their dreams.
Timberhaven's Ultimate Home Examples
Timberhaven has manufactured homes that fit into many of these categories. Here are a few examples.
Ultimate is defined as "the best or most extreme of its kind." Certainly this definition is subjective. So what does ultimate mean to you? How do you envision your ultimate home?
Jack and Bob's Ultimate Home
After years of research, sorting out fact from fiction, and visiting every manufacturer along the East Coast; Jack and Bob learned a Timberhaven log home was the only choice for their scaled down dream. Now, they are proud to define their ultimate home as a 1,000 sq. ft. Timberhaven log home nestled in the Pocono Mountains of Pennsylvania. This home exudes character…from the overall theme to the door trim and every element in between. This well-designed, well-executed custom home turned out beautifully, and we couldn't be more proud to share the finished outcome with you.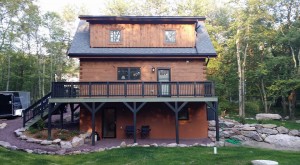 The homeowners blend elements of rustic elegance with modern clean lines. It's a sensational use of space where the natural elements highlight the contrasting modern finishes.
Built with premium-grade, White Pine engineered logs that were dried to an average moisture content of 9%, these logs were milled to an 8 x 12 profile with Dovetail corners. The logs' natural color and wood grain creates a beautiful, warm backdrop.
The loft area was designed as a study. It features a handcrafted sliding barn door, 6×8 saltbox trusses overhead with contrasting metal gusset plates, and plenty of natural light. It's cozy and so is its view.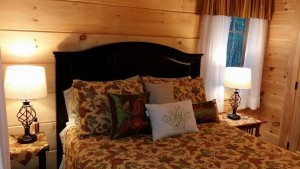 The master bedroom suite occupies the left side of the first level. Utilizing the same warm color palette, striped window dressings complement the floral duvet nicely. A black antique headboard and wrought-iron side table lamps bring additional sophistication to the room.
A second bedroom on the upper level is located directly across from the study. Its neutral color palette has contrasting deep red accents – very, very beautiful.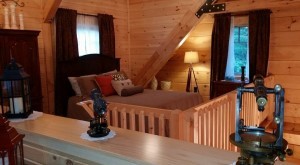 No helicopter pad onsite.
No boat needed for access.
No fireplace to light.
No wall of glass to clean.
Yet….this home has everything!
---
Jack and Bob, it has been a real pleasure watching your log home dream become a reality. We couldn't be happier for you. Please accept our sincere gratitude for choosing Timberhaven Log & Timber Homes as the manufacturer for your ultimate home.
---
For more information about this custom design or Timberhaven Log & Timber Homes, contact your local representative today. If you have 7 additional minutes, click to watch a step-by-step video of this project during construction.
https://timberhavenloghomes.com/wp-content/uploads/2015/11/Finished-Exterior.jpg
528
960
Bobbi Landis
https://timberhavenloghomes.com/wp-content/uploads/2017/07/timberhaven-logo.png
Bobbi Landis
2015-11-06 10:24:31
2017-07-31 08:51:01
Log Home Dream Becomes Ultimate Home Reality