Weather-Tight Log Home – New Model Under Construction: Part 6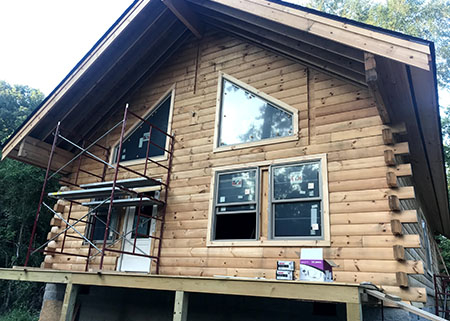 Weather-Tight Log Home: It's time to install the roof sheathing, windows and doors on Mary and Philip Girton's new model log home.  This stage is often referred to as the "dry-in" or "weather-tight" phase – the terms are self-explanatory and can be used interchangeably.
During these phases of construction, 4×8 roof sheathing is installed on top of the 2×12 rafters. On the exterior side of the sheathing, synthetic felt underlayment (Rhino Lining) is installed prior to the shingle application.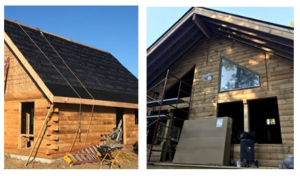 On the interior side of the sheathing, styro vents (aka air baffles) are installed.  This creates a dedicated air space that prevents moisture build-up in the roof system.  Next, insulation is applied between the rafters.  The final layers of this roof system include, a vapor barrier (which creates an air-tight seal) and White Pine Tongue & Groove.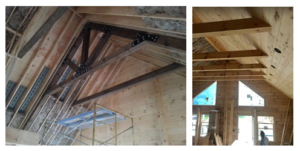 Weather-Tight Log Home – Windows & Doors
In the precut window and door openings, material for the window and door bucks is installed.  These frames define the space to receive the windows and doors.  Once installed, the actual windows and doors are secured directly to the bucks.
Mary and Philip incorporated elements of custom and standard glass in their new Timberhaven model log home.  The dynamic duo chose Andersen windows with a Terratone finish.  Window packages by Pella and WeatherShield are also available through Timberhaven.
After the windows and doors are installed, the builder finished off these areas with 1 ¾" x 3 1/2" EWP specialty milled window and door trim.  Curt Woodall, Mary and Philip's builder recently praised Timberhaven's trim materials saying, "2x trim may seem like small potatoes, but as a builder this is one of my favorites. Timberhaven provides 2×10 exterior fascias and even beefier window trim that is 1-3/4″ thick. Most other manufacturers supply 3/4″ material. Details like this make Timberhaven's homes pop when completed."
Important Note: We've talked a lot about various package components today – from the roof to windows/doors to specialty trim.  As a consumer, it's important to understand that all of these aforementioned products are included as standard options in Timberhaven's most complete log home packages.  So…when shopping log home and timber home manufacturers, compare carefully as not all home packages are created equally.  Contact your local rep today for a free apples-to-apples comparison.
To schedule a personal tour of this weather-tight log home, call +1 (615) 374-7122 or visit online today gloghomes.com.
https://timberhavenloghomes.com/wp-content/uploads/2020/03/Girton-Log-Home-Part-6-Trim.jpg
338
450
Bobbi Landis
https://timberhavenloghomes.com/wp-content/uploads/2017/07/timberhaven-logo.png
Bobbi Landis
2020-03-13 10:43:59
2020-03-13 10:43:59
Weather-Tight Log Home – New Model Under Construction: Part 6