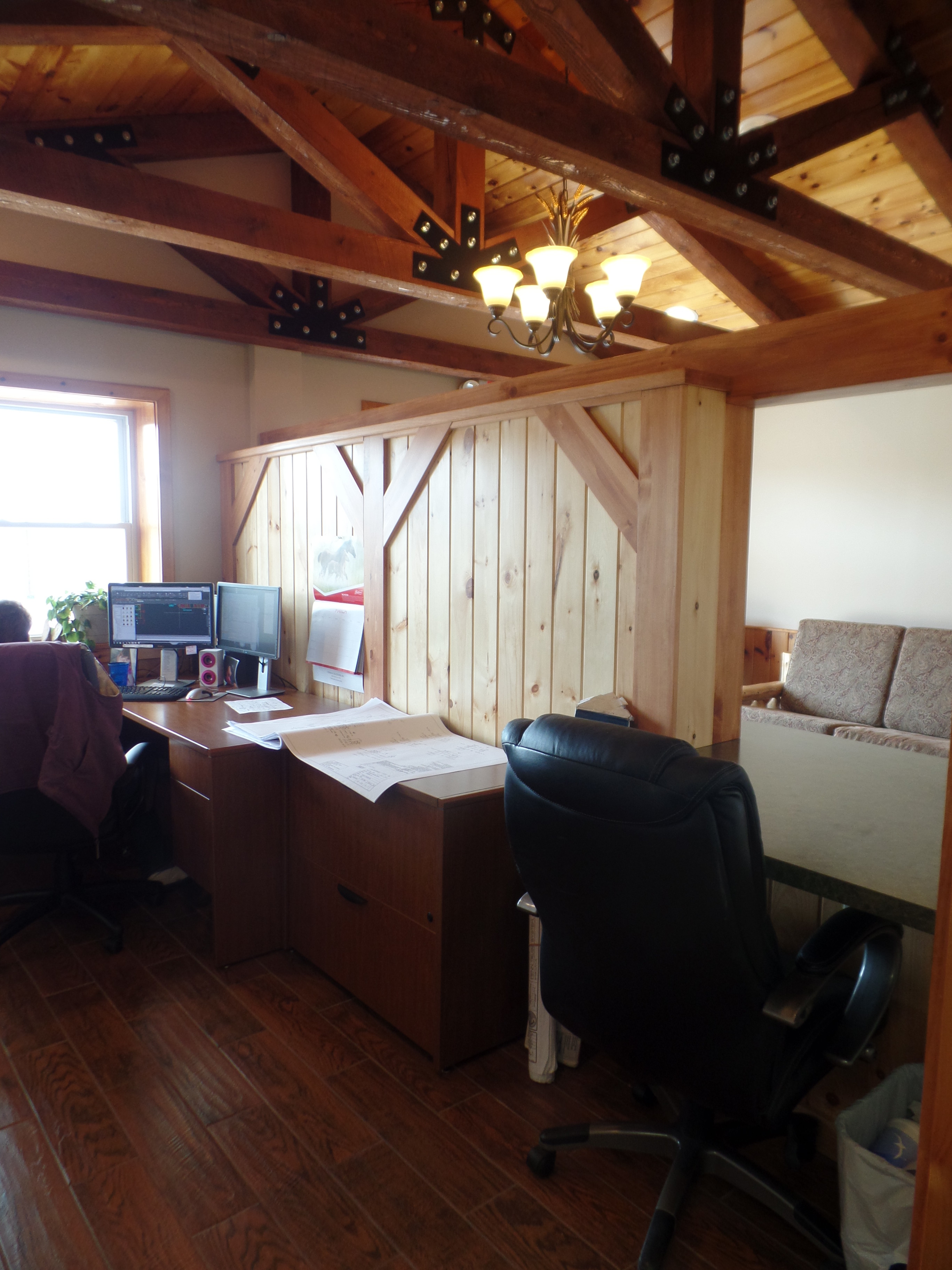 We have reached our destination! The team at Timberhaven Log & Timber Homes is elated to be settling into our new digs…a place to finally call home. Doors officially opened at 1081 Salem Church Road on March 1, 2016. While there are still a few boxes to unpack, everyone has already become acclimated. Let's take a look around…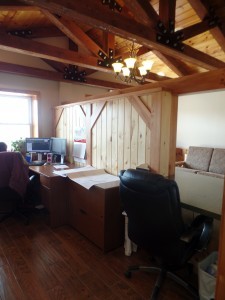 Upon entering our new office, the cathedral ceiling and beautiful decorative trusses catch the eye and add an element of warmth to an already welcoming area. White Pine timber frame elements and tongue & groove provide a constracting complementary backdrop. This is Wendi's space.
Wendi's other pride and joy is the plotter room. She reports, "Finally…..Finally an awesome room for our new Canon-Plotter/Scanner combination to call home. Plenty of room for this 'bad boy' and plenty of room for us to prepare our large-size plans, consumer brochure packets for mailing, etc. Now everything can be at our fingertips all in one room which makes it more efficient for all of us." Hence we can better serve YOU!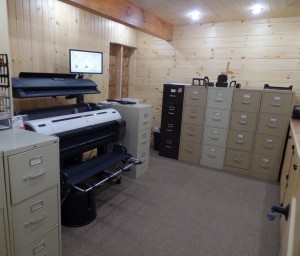 For the first time since our inception, we have an official conference room. The room has been occupied frequently since last Tuesday with potential new customers, vendors, neighboring residents and local business owners who have stopped by to introduce themselves.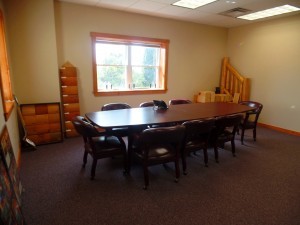 Paint, White Pine tongue & groove chair rail and coordinating window frames give the offices a fresh, new feel. These offices belong to Joe and Lynda (principals at Timberhaven). They both maintain an open door policy in an effort to encourage openness with the group. The dynamic duo motivates the team to stop by to meet, ask questions when necessary, and discuss suggestions which ultimately supports group collaboration, increased productivity, and mutual respect. This team's foundation starts at the top.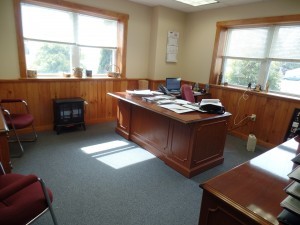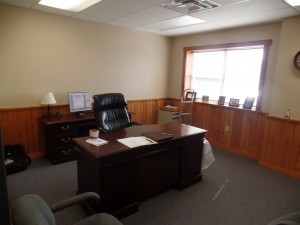 In the manufacturing facility, which is just outside the door from our office space, the laminator equipment specialists from NC have reconnected hundreds of sensor wires on the radio-frequency machine. Kevin, the laminating expert, was quick to test his new digs. Here is his first press of kiln-dried engineered material.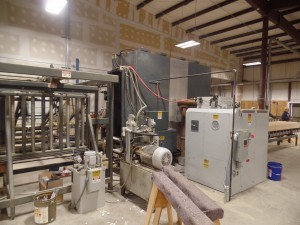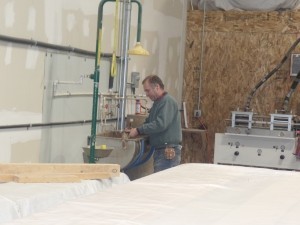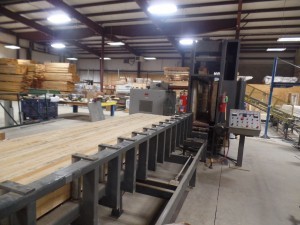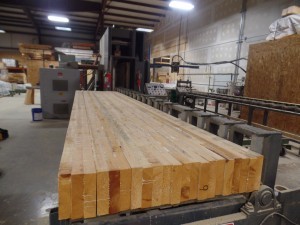 Throughout this past week, crews worked to finalize the blower system's final connections. The concluding tasks have been completed and the seal of approval has been granted by the necessary inspectors. (below, left)
The manufacturing equipment has been in place for a few weeks now. The power switch on this planer will be flipped next week. (below, right)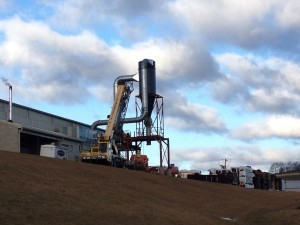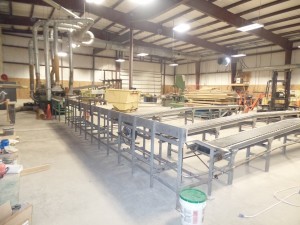 In summary, over the past year the project looks like:
• Purchase of a 27,000 sq. ft. building on 22 acres of commercial property
• Relocate and enlarge walls and doors
• Install a new wood boiler with special wood boiler room
• Establish a sawdust and wood shaving blower system
• Build the plotter room
• Finalize a 90 ft. sound-barrier wall
• Update office space to accommodate advanced technologies
• Build a 16,800 sq. ft. steel frame addition for our logs, timbers and other package components
• Transport 45 truckloads of current log and timber inventory
• Disassemble, transport and reassemble:
o 8-ton planer, 200 ft. of dust collection pipes, a 30 ft. cyclone, and a 10 x 20 bag house
o 6-ton Radio-Frequency Machine (aka the laminator)
o 175 ft. house cut line which included 10 pieces of equipment and a 200 ft. dust collection system and
cyclone
o 30 ft. roof cut line which included 3 different saws
o 200 ft. bridge cut line with 6 pieces of equipment, an air compressor, and another 250 ft. of dust
collection pipe
One massive relocation. One dedicated team. Out of many….there is only one team this committed to their work and providing the highest-quality, affordable log homes, timber frame homes and log cabins. And we hope you will visit us soon!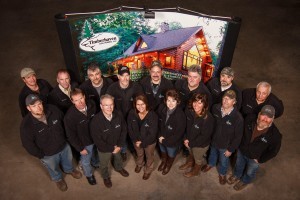 Timberhaven Log & Timber Homes
1081 Salem Church Road
Middleburg, PA 17842
Phone: 570-765-7293
info@timberhavenloghomes.com
www.timberhavenloghomes.com
https://timberhavenloghomes.com/wp-content/uploads/2016/03/SAM_5618.jpg
3648
2736
Bobbi Landis
https://timberhavenloghomes.com/wp-content/uploads/2017/07/timberhaven-logo.png
Bobbi Landis
2016-03-11 13:10:30
2017-07-31 08:45:20
Welcome Home: Timberhaven Log & Timber Homes