Timberhaven: Who We Are and What We Do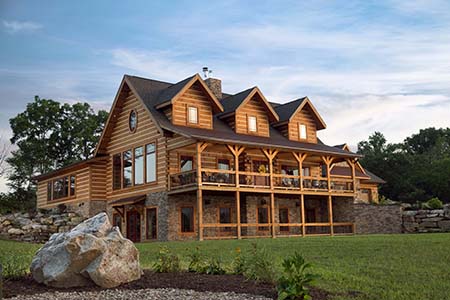 The history of log and timber structures dates back to the early days of American culture, with the first log home originating in our country somewhere during the 17th century. Considering, many people still actively seek log and timber home styles, we think it's safe to say they are here to stay. Is it any wonder? From their history to their beauty; their versatility to their strength, there's just something incredibly special about log and timber homes.
Here at Timberhaven, we think there are some incredibly special things about us, too.  One of these aspects includes our commitment to providing a diverse product line.  Here is a snapshot of who we are and what we do.
Your Dream . . .  Our Passion
Manufactured in the heart of the Appalachian Mountains in Pennsylvania, Timberhaven Log & Timber Homes manufactures premium quality kiln-dried log homes, log cabins, timber frame homes, hybrid homes, outdoor structures like pavilions and pergolas, timber accents and more. With the most highly trained and skilled professionals in the industry, we have an employee average of 28 years' experience. We take great time and energy to make sure that every attention to detail has been met to give you the best value there is in custom wood home living. Your Dream . . . Our Passion. It's not just our tagline. It's our foundation for how we do business.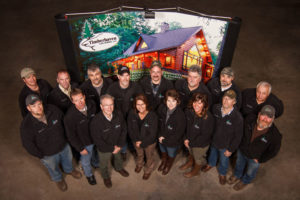 Log Homes
Nothing compares to the beauty and artistry of a custom log home. Designed for style and efficiency, Timberhaven's log homes are constructed from Kiln-Dried Engineered Logs or Kiln-Dried Traditional Solid Logs – both will last for generations to come. And, with hundreds of floor plans ideas from which to choose – or custom design services if you need – you'll be sure to have a log home that will perfectly match your lifestyle.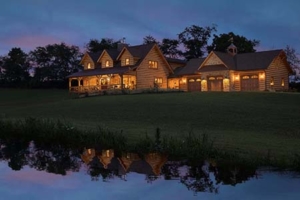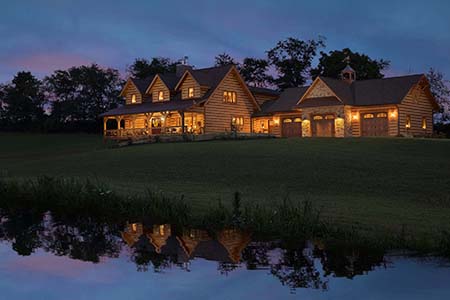 Timber Frame Homes
While our timber frame homes share several characteristics with log homes (like the incorporation of quality timbers), they are a totally different form of construction. Timber frame homes open a wealth of finish and aesthetic possibilities to a homeowner. This includes the use of a variety of interior and exterior finish materials, like drywall and tongue & groove to stone, cedar shake, brick, Hardie Board or LP Diamond Kote siding and more.  When it comes to getting the look you want that perfectly complements your gorgeous timber frame, the possibilities are endless.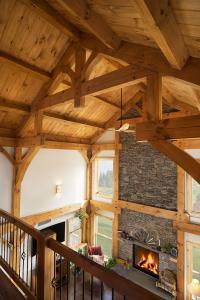 Hybrid Homes
Timberhaven hybrid homes integrate timber accents into conventional construction systems. The result is a stylish, one-of-a-kind home (think HGTV!) that still has the distinct aesthetic feel of a true timber frame home. Our timber accents are made from quality timbers and are precision crafted to meet your design and aesthetic preferences.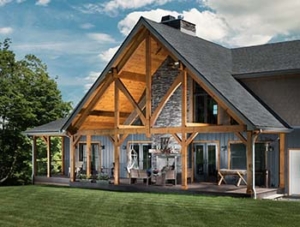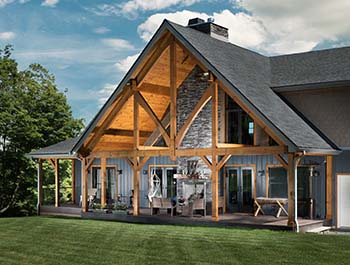 Timber Frame Pavilions & Other Outdoor Structures
When you combine these aforementioned quality materials and precision crafted timbers, the end result is also perfect for outdoor timber structures like pavilions, pergolas, gazebos and more.  These structures not only add beauty and value to your home but facilitate both luxury or casual outdoor living experiences.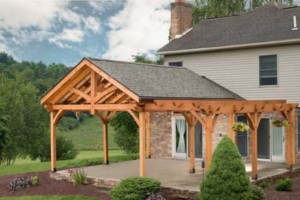 Timber Accents & Specialty Products
In addition to the home packages/products referenced above, we offer a variety of interior and exterior timber accents as well as hard-to-find specialty products that can elevate your personal style, making the dream home you envision a reality.
Create a warm, inviting atmosphere with timber accents that include:  Timber posts and beams, character trees, log siding, T&G and Shiplap, stair systems, handrail systems, window and door trim and barn doors.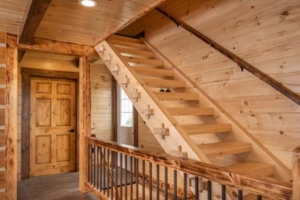 From minimal to elaborate, our exterior timber accents and hybrid materials will allow you to enhance the look of your new home or renovation. These include: Porch systems, timber trusses, gable accents, corbels, decorative overhangs, railing systems, stone veneer, log siding, Cedar Shakes, Board and Batten, Hardie Board and LP Diamond Kote SmartSide siding.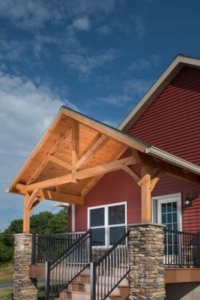 Who We Are and What We Do
At Timberhaven, we strive to design and engineer beautifully crafted homes, timber structures and accents, and specialty products that will turn your home into extraordinary!   After all, your home is the center point of your life. Live it. Enjoy it. Experience living in a home as beautiful as the memories you will bring to life inside.  Imagine the possibilities….
Contact us today to discuss your project! +1 (855) 306-5678
https://timberhavenloghomes.com/wp-content/uploads/2020/03/Karchner-Log-Home-Exterior-1.jpg
300
450
Bobbi Landis
https://timberhavenloghomes.com/wp-content/uploads/2017/07/timberhaven-logo.png
Bobbi Landis
2020-05-15 10:50:16
2020-05-15 10:50:16
Timberhaven: Who We Are and What We Do