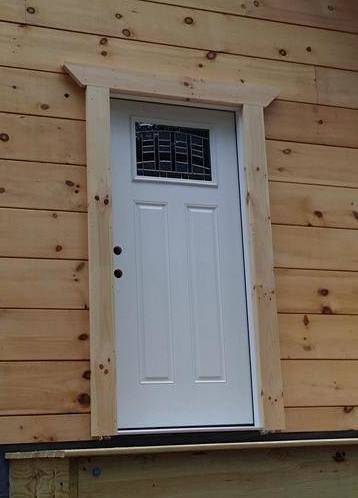 If you enjoy having photos of your family, wildlife, or awe-inspiring views displayed in your home, then you understand the importance of having a special picture frame in which to display your favorite images.  Like the old cliché they fit together like a hand in a glove…you can't have one without the other. Same goes for the beautiful milled trim Jack and Bob are installing on their windows and doors of their dream log home. The trim complements their windows and doors and – with a little creativity – makes a statement about the one-of-a-kind home they are constructing.  Let's take a look at what they have been up to.
Log Home Construction: Window and Door Installation
Jack and Bob continue with window and door installation in an effort to get their home to the weather-tight stage.  While visually it may not look like they made a lot of progress, window and door installation is thorough and takes much time and attention to detail in order to complete.  The guys ARE making progress!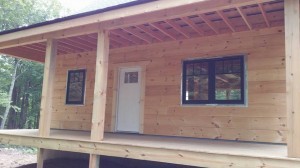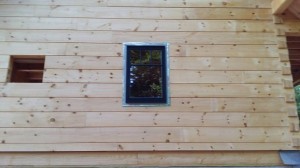 Log Home Construction: Window and Door Trim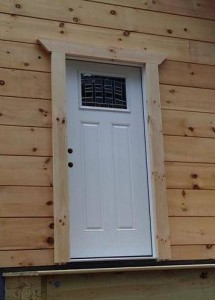 When it comes to window and door trim applications, log home owners can use their discretion.  We normally recommend using mitered joints (where the trim meets at a 45 degree angle). You can forget about having to cut angles and simply create a small overhang, or you can utilize an overhang and an architectural flair like Jack and Bob did.  See their custom work here.  Beautiful!
For all logs with flat surfaces, whether you are applying interior or exterior trim, the window and door trim is secured to the face or flat surface of the log. For logs with rounded interior or exterior profiles, all trim is kerf cut (or inset back into the log). In Jack and Bob's case, their 8″ x 12″ dovetail logs are flat on the interior and the exterior, so they will face nail all trim.
Log Home Construction: What materials are included?
Timberhaven supplied 2"x 6" window & door trim for Jack and Bob's custom log home.  Given the fact that this couple chose the massive 8" x 12" laminated log from the company's lineup, the larger trim is more proportioned than the smaller (2" x 4") trim that is typically supplied in the company's standard package when a smaller log is selected.
Log Home Construction: What is next?
The guys are ready to start working on installing the windows and doors to the rear of the home next. In the near future you will also see Jack and Bob build a decorative overhang in the area where the solid log wall meets the shed dormer.  Board & batten will be applied to the shed dormer, so the decorative overhang will create a nice transitional element between the two areas.  Additionally, it will tie into the roof system making the rear of the home as charming as the front.  We can't wait to see how this comes together.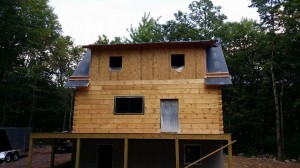 It does not take long to realize that this is not your standard "cookie cutter" home.  Jack and Bob have invested a tremendous amount of time and energy into their one-of-a-kind custom built log home, and we could not be happier for them as they get closer and closer to living their dream.
https://timberhavenloghomes.com/wp-content/uploads/2014/09/door-trim-closeup.jpg
498
358
Bobbi Landis
https://timberhavenloghomes.com/wp-content/uploads/2017/07/timberhaven-logo.png
Bobbi Landis
2014-09-04 11:51:57
2017-08-03 02:24:05
Window and Door Trim: Custom Built Log Home – Part 9